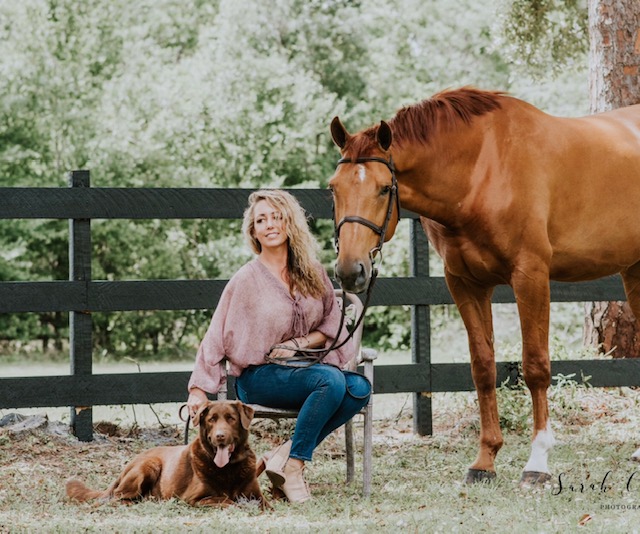 CLAIR KELLNER: OWNER/TRAINER
Clair has been riding and showing since she was five and has ridden with many special trainers along the way. As a pony rider, she rode with Trudy and Larry Glefke, Bibby Farmer Hill and Christina Schlushmeyer.
By 1996-97, she was a working student with Don Stewart. Her accomplishments during this period include:
AHSA Medal finalist, placing 5th in 1996.
Capital Challenge Large Junior Champion.
Numerous other Champion and Reserve wins in both Small and Large Juniors events.
Washington International Horse Show 2nd Place Hunter Phase, 1997.
Capital Challenge Reserve Champion, Small Junior Hunter.
1997 Reserve World Champion Hunter Rider.
Sixth Place, Maclay Regionals.
First Place, Maclay at Devon, Pennsylvania.
Second Place, AHSA at Devon, Pennsylvania.
First Place, Cincinnati Equitation Classic.
Cincinnati, Champion, Large and Small Junior Hunter
Since Kingsmeade Farm's grand opening June 1, 2002, Clair has continued with her success:
Biltmore Classic Champion Second Year Green Hunter 2002
Winter Equestrian Festival (WEF) Champion 3 & 4 year old Hunter 2003
Biltmore Classic Champion Second Year Green Hunter 2003
HITS Ocala, Champion 3′ Pregreen Hunter 2004
HITS Ocala, Champion 3'3″ Pregreen Hunter 2004
WEF, Champion 3 & 4 year old, won all over fences 2004
$25,000 Hunter Classic Atlanta, Ga fifth place 2004
HITS Ocala, First Place, First Year green Hunter 2005
Second Mini Prix 2005
Atlanta Ga., Trainer's Equitation third place 2005
Zone 4 Finals, Champion First Year Green, Champion and Reserve Pregreen 2005
HITS Ocala, Circuit Champion Second Year Green 2006
WEF, Reserve Champion Second Year Green Hunter 2006
Atlanta Summer Classic, $25,000 Second Place 2006
Atlanta Summer Classic Champion First Year Green Conformation Hunter, both weeks 2007
Atlanta Summer Classic, First place Trainer Equitation Classic 2007
USEF Hunter/hunter seat equitation "R" judge April 2017
USHJA Trainer Certification completed 2017
USHJA National Derby, Many Firsts 2016-2019
VET $5000 Hunterfield Challenge First place 2018
Zone 4 Champion 3′ Green Hunter 2018
HITS Ocala, Champion 3'6″ Performance Hunter and Young Hunter 2019
Clair has trained both horses and students who have also been very successful nationally in the hunters, jumpers, equitation and ponies. With riders successfully competing in Junior Hunter Finals, Maclay and Medal Finals and Pony Finals
Kentucky Derby

Golden years project
Clair's mom Charlie is part of the Management Team. Sometimes referred to as the "bean counter", Clair's words.
CAROLINE AGNEW/ASSISTANT TRAINER
Caroline Agnew started riding at age 7 in South Carolina. She showed her first pony My Fair Lady from walk trot to short stirrup. She did the Children's Hunter at age 13-14 and started riding at Kingsmeade Farm as a fourteen year old. She bought an awesome horse, Maldek, who is still at Kingsmeade, and did the jumpers and the 3′ equitation with him.
Caroline showed in the 3′ 6″ equitation and Junior Hunters. She then graduated from high school and went to the University of South Carolina for one year. Wishing to return to Florida, she then attended Eckerd College. She took time off from riding while she was in school.
Kingsmeade had been looking for a new assistant trainer for several months and when Caroline came by to visit with Maldek, we ask if she would be interested in the position. Caroline realized that horses and Kingsmeade is where her heart really is and where she belongs!!
Caroline is such a positive person, has a great attitude and a wonderful smile AND she loves the horses. It's like she never left. We are so happy and fortunate to have her. It was meant to be!!